Landscaping Ideas For Beginners
If you are planning to redesign your home's landscaping, you should ask yourself what your ultimate goals are for your new yard. Do you want a large flowerbed, a vegetable garden, or a place to play for your kids or dog? Are you going to include a pool? What about structures and hardscapes? All of these are important factors to consider when designing the landscape. Here are a few tips for making your yard your dream space.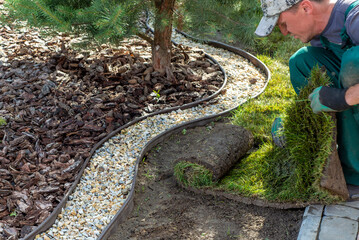 Landscaping is an art as well as a science. Before starting your landscaping project, do some research online and find ideas. Look at different landscape projects in your neighborhood and learn about specific features and materials you would like to incorporate into your yard. Hiring a landscape architect or designer is a great way to have an exceptional outdoor space for entertaining guests. Once you have a good idea of your ideal yard, it will be easier to plan the next project.
Colors set the mood for your landscape design. Warm colors evoke excitement and make things feel closer, while cool colors provide a tranquil feeling. Use colors in contrast or unity to create depth and separate different areas of your yard. Using color effectively will make your yard more beautiful. Make sure you choose colors that reflect your personal style. Once you've decided on your overall colors, choose various them to give it a perfect look.
The form is a major design principle to consider when planning your landscape. Using it will highlight the three-dimensional elements of objects and create a visual theme throughout your yard. Using rounded plants and curved walkways will create a cozy feel, while rigid structures and straight lines will convey formality. By combining the two, you'll create an outdoor environment that is both functional and attractive. And, if you want your yard to feel more private, try using a secluded space.
Landscape design for beginners requires patience. Use mulch and fast-growing groundcovers to cover bare areas in the landscape. For larger plants, use annuals as groundcovers. Smaller perennials can be transplanted and replanted later. Similarly, groundcovers can help soften the edges of hardscape features. For the most part, these materials are inexpensive and require little maintenance. However, if you want to incorporate flowers, you should use a mix of seasonal plants and annuals.
There are three main segments of the landscaping industry. These are consultation, installation, and pruning. Some positions require specific knowledge and training to perform the job. Some require college degrees, while others require specialized on-the-job training. Some landscape jobs require certification, while others require college degrees. For example, account managers supervise the service of a specific customer account. Arborists are involved in planting and maintaining trees and earn special certification for their work.
The art of landscaping involves making changes to the outside of a home or property to make it look beautiful. It combines aesthetics and practicality and can include changing the shape of land through backfilling, mounding, terracing, and grading. This type of landscaping includes designing and creating gardens and creating outdoor areas that can be used for outdoor activities. Ancient Mayans used the land in a variety of ways to create an aesthetic area that was beautiful and welcoming to visitors.
In addition to designing and planning your landscape, landscapers can also help you with gardening. These professionals can sketch out a design and make a list of plants that will fit your preferences. Once the design is finalized, the gardeners will plant them. But landscaping is about much more than just plants. Your landscaper will also design your pathways, water features, and sculptures. They also consider the color, texture, and flow of the landscape.
The landscape consultation should include communication about your preferences and budget concerns. This way, you will save time during the design process. You should also check references of landscaping companies. A landscape project may require ongoing maintenance, either by you or by the contractor. In this case, it is important to clarify the maintenance schedule with the contractor and their costs. This way, you can avoid any surprises down the line. If you hire a landscape contractor, make sure they will provide you with the ongoing maintenance schedule and prices before you sign the contract.
A beautiful landscape can increase the value of your home. Compared to homes with poorly landscaped yards, homes with a well-landscaped yard can fetch up to 12.7% more than those without landscaping. In addition to increasing your home's value, landscaping is also good for the environment. Studies have shown that homes with well-maintained yards tend to sell faster than those with untended yards. Furthermore, it creates a good vibe for potential buyers, which can help your home sell.
landscaping
landscaping company
landscaping design
landscaping services
lawn care