Choosing a Tree Service
Tree service is an industry that specializes in arboricultural services. This service includes arboricultural techniques in built environments, such as road verges, greenways, backyards, and parks. While the industry focuses on roadside trees, their services aren't limited to these environments. They can provide tree care services to private property owners and commercial enterprises.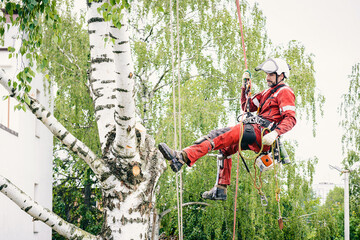 Tree Service professionals are knowledgeable and experienced in handling hazardous equipment. They also adhere to strict pruning standards and are covered by liability insurance. The profession is a dangerous one and requires specialized training and equipment. If a technician isn't qualified, they can cause serious injury or damage to the property. This can lead to liability issues for homeowners. In such situations, it's important to seek a professional's advice to ensure your property's safety.
The cost of a tree service depends on a variety of factors. Some services, such as pest control and stump removal, are less expensive than others. Others, such as emergency tree services, can be more expensive. A well-maintained tree is less likely to fall on a roof. In any case, make sure to get multiple estimates before selecting a tree service company.
When looking for a tree service company, check their reputation in your neighborhood. Find out if they're members of any reputable trade associations. The International Society of Arboriculture and the Tree Care Industry Association are two examples of well-known associations. If a company does not belong to a trade association, search online forums to see if people have reported complaints about their service. Also, ask for references. It's worth the time and effort to research a potential service, particularly for a project that will cost thousands of dollars.
A tree service company can also remove debris from your property and rehabilitate trees. Tree service professionals can prune trees and cut off weak branches to improve their strength. They can also install cabling and bracing, increasing weakened trees' stability. They can also help you get rid of weeds and ensure that your landscaping is in order.
Lastly, ensure the tree service has appropriate liability and workers compensation insurance. The insurance agency should send you a certificate, although this can be fraudulent. If a tree service fails to have the proper insurance, you're on your own. Without proper insurance, you'll be responsible for any injuries and damage to your property.
When you choose a tree service, make sure you hire professionals. Tree care is time-consuming and requires expertise. Hiring a professional will ensure you have a healthy tree, reduces site problems, and prevents tree diseases. They also know when and how to prune trees, which is critical to their health and appearance.
Tree service specialists specialize in tree diagnosis, which means they know the exact condition of any given tree. They can also advise you on the best way to treat them and ensure a long life for them. In addition, they can diagnose flora and fauna in your yard and provide expert advice about how to care for them.
Starting a tree service business is a big investment. The startup costs typically range between $10,000 and $50,000. The costs include a business license, equipment insurance, and a warehouse for inventory. You'll also need to purchase gas for your trucks, ladders, and chainsaws. You'll also need an accounting system and payroll software. Finally, you'll want to create a professional website.
Tree trimming and removal require a lot of expertise and equipment. If you're not an expert, you run the risk of getting injured. Professional tree service personnel can provide you with protective gear to ensure your safety. In addition, they know how to prune trees safely and effectively. If you're not sure what kind of service you need, don't hesitate to contact a professional.
Tree service companies can help you eliminate unwanted trees on your property. These professionals are licensed and insured and can perform tree removal, pruning, shaping, and stump removal. In addition, some of them offer emergency tree removal and storm damage cleanup. And they offer 24-hour customer support for emergencies.
stump grinding companies
stump grinding professionals
stump grinding services
tree grinding
tree removal