Choosing a Custom Outdoor Kitchen Builder
A custom outdoor kitchen expands culinary skills, allowing you to prepare gourmet dishes. Adding a grill and specialized cooking equipment can help you explore new flavors and techniques to elevate your dining experience.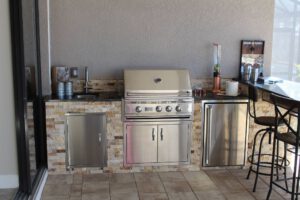 A covered outdoor kitchen protects your appliances from harsh sunlight, rain, and snow and offers the possibility of adding amenities like overhead lighting and heating. It also opens up far more design possibilities. Keep reading the article below to learn more about Custom Outdoor Kitchen Builder.
The design process is one of the most important parts of your new custom outdoor kitchen. It ensures that the space is functional and aesthetically pleasing. It also allows you to choose the right appliances and materials for your specific needs. A good contractor should be able to provide you with a design for your project before starting work. If they can't, it's probably best to keep looking for someone else.
A well-designed outdoor kitchen will make it easy to entertain guests and cook meals for your family. It should include all the necessary elements of an indoor kitchen, including a refrigerator for cold drinks and a built in grill for cooking food. A kitchen should also have plenty of countertop and storage space. It should also be designed with your entertaining and cooking habits in mind. For example, if you frequently host parties, you may want to add an island with a sink and dishwasher.
In addition to providing cooking and refrigeration, an outdoor kitchen can add ambiance to your backyard. A fire feature can take off the chill on a cool night, and an outdoor bar can be a great place to gather with friends. The options are endless, and a custom outdoor kitchen builder can help you find the right fit for your lifestyle and budget.
When choosing a custom outdoor kitchen builder, you should be sure that they have the ability to create a design for your space before starting construction. This is critical because it will allow you to see what your finished product will look like before it is built. It will also help you determine if the kitchen fits in your yard and whether it will meet all your needs.
If your contractor uses a design software program that gives you a visual of your kitchen, it will be easier to make changes before construction begins. This will save you a lot of time and frustration, and it will ensure that your kitchen is designed the way you want it to be.
Materials
The materials used in the construction of an outdoor kitchen play a critical role in its durability and longevity. Your builder should help you select durable, low-maintenance materials that complement the architecture of your home. It is also important to consider the climate where you live when choosing the materials for your outdoor kitchen. For example, stainless steel and tile countertops are not suitable for areas that experience a large freeze thaw cycle or high moisture conditions. Other durable, long-lasting material options include poured concrete or stone pavers. These materials are also easy to clean and come in a variety of colors, textures and styles.
Once you have selected the location for your custom outdoor kitchen, the builder should provide a blueprint of the design and its specifications. This will help you understand how the kitchen will be constructed and ensure that all of the necessary plumbing and electrical lines are properly installed. It is also a good idea to check that the dimensions of your backyard are accurate. It would be a shame to invest the time and money into building an outdoor kitchen that does not fit in your yard.
The structure, or base, of an outdoor kitchen can be made from a variety of materials including wood, metal and concrete. Your builder should advise you of the advantages and disadvantages of each type of material. For example, a wood frame is susceptible to insects and other pests while metal is difficult to maintain in hot weather. A concrete block foundation is a good option for northern climates because it can withstand freezing and thawing cycles without damage.
A durable, long-lasting countertop is a crucial component of an outdoor kitchen. There are many different options available, but two of the most popular choices are poured concrete and granite. Poured concrete is an affordable, hardwearing and easily cleaned material that can withstand the blazing summer sun. Granite is a dense, non-porous material that resists grease stains and other food debris. It is also a beautiful material that adds a touch of elegance to your outdoor kitchen.
Appliances
A custom outdoor kitchen allows you to cook, entertain and eat all outdoors. A typical outdoor kitchen includes a grill, sink and storage cabinets. It can also feature a bar with seating or a counter top that is used to serve drinks and snacks. Other appliances, such as a smoker or pizza oven, may also be included in a luxury outdoor kitchen.
An outdoor kitchen can also include a television and speakers to create a complete entertainment center. This is ideal for watching sports and bringing everyone together for dinner parties or movie nights. A covered outdoor kitchen can also add a level of comfort by protecting the cooking equipment and furniture from rain and snow.
When designing your custom outdoor kitchen, you should consider how often you will use it and what types of food you will prepare. You should also think about how many people you will typically accommodate when hosting gatherings. These factors will help determine what type of appliances and features you will need.
Some popular appliances for an outdoor kitchen include a gas or propane grill, a side burner, and a power burner or hibachi-style griddle. You can also choose to include a refrigerator or a sink. In addition, you can install a trash cabinet and a paper towel holder to make cleaning your new kitchen easier.
A custom outdoor kitchen is a great addition to any home and can increase the value of your property. A recent study found that homes with outdoor kitchens sell for a higher average price than those without them.
The process of building a custom outdoor kitchen can be complicated. If you decide to hire a professional, you should find one that has years of experience in outdoor living installation and design. A qualified contractor can help you get the most out of your backyard space and design a kitchen that meets your specific needs. An experienced installer can also offer helpful tips for choosing appliances and coordinating them with your existing landscaping and outdoor furnishings. In addition, a skilled installer can ensure that all work is completed properly to avoid costly repairs in the future.
Installation
Adding an outdoor kitchen to your backyard is one of the most impressive ways to upgrade your property. In fact, a recent study by the National Association of Realtors found that homes with an outdoor kitchen have higher average home prices and sell faster than those without. Whether you're looking to upgrade your backyard for entertaining guests or simply want a place to cook and hang out with family, an outdoor kitchen is the perfect solution.
A professional outdoor kitchen contractor will help you assess the space you have, design a structure using the latest in CAD (Computer Aided Design) technology, and build your backyard retreat. A great custom outdoor kitchen will not only be beautiful, but it will also be functional and durable.
The first step in creating your custom outdoor kitchen is determining what types of appliances you'll need. Think about your cooking habits and lifestyle to create a list of necessary items. If you frequently host large gatherings, for example, you may need a larger refrigerator or a warming drawer. On the other hand, if you're a casual cook, you might be able to get away with a simpler appliance set.
Another important consideration is how your new space will be positioned in your yard. You'll want to position your grill where smoke won't drift into your house, and you'll also want to ensure that the area where you serve food is a safe distance from the area where children and friends might play. For this reason, many people choose to install their outdoor kitchens on the back of their homes.
Once you've determined the types of appliances you need, it's time to start planning your layout. A good contractor will be able to use a CAD program to provide you with a visual of your new backyard kitchen, which will give you an idea of what the finished product will look like before it's built. If a company can't offer you this service, it's likely because they lack experience working with outdoor kitchens.
In addition to being able to create a custom design for your outdoor kitchen, a quality contractor should also be able to work with you on the price. Production builders typically use a standard layout and prefabricated components to keep costs down, so they're not as flexible when it comes to materials, design, or overall scope. On the other hand, a custom builder will create a unique outdoor kitchen tailored to your budget and ideas.
backyard fire features
commercial concrete
custom carved water features
custom outdoor living spaces
hardscapes
indoor outdoor concrete-stone facing
retaining walls